Welcome to my Vietnam street photography series that I worked on while living in Hanoi from 2019 to 2023. The pictures are scenes and moments when all elements come together creating a "Photo Art Story", neither predicted nor planned.
Some of these photographs were taken while working on assignment with VIETNAM IN FOCUS
"I'm inclined toward aesthetically documenting people and places in the way things are at a specific period in time. Life as we know it changes so fast and the future is a mystery. Today, everything in the past is already history. I'm curious about questions like: "What was life like here before now? How has it been different in the past compared to now and how will it differ in the future?"

Lavonne Bosman
As a contemporary and artistic street photographer
It is important for me to capture slices of life for future generations to remember and have a glimpse of what once was. I like doing that in my own style, creating something aesthetic to look at. Because of my early influence by Impressionist paintings, I love intriguing scenes with a particular light quality, where the photographs become picturesque, resembling paintings. I pride myself in creating original photographic art that you would want to hang on your walls and appreciate for years into the future.
I shoot in manual mode in camera raw format so that my photos can be printed to the highest quality large wall art size. I use mainly a Canon 50mm lens with my Canon 5D camera, which give a true life-like perspective, as if the viewer is right there in the action.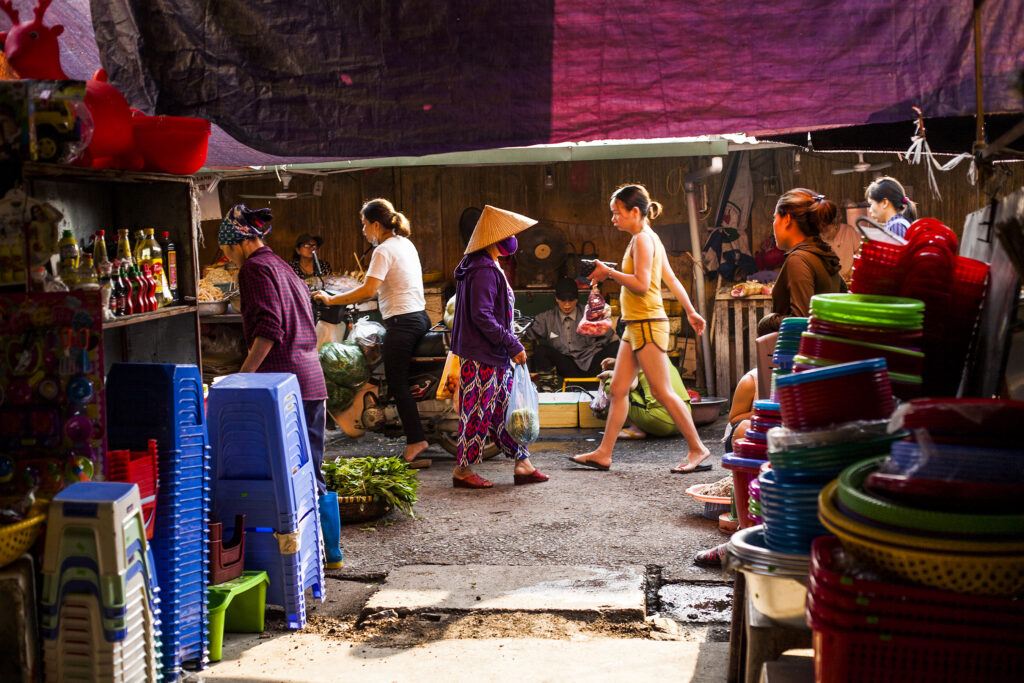 In the bustling heart of Hanoi Vietnam, the streets come alive with stories, hidden in every corner, every smile, and every interaction. South African photographer Lavonne Bosman has masterfully captured these vibrant narratives through her lens, turning them into captivating visual tales.
The Power of Lavonne Bosman's "Photo Art Stories":
Lavonne Bosman refers to her street photography as "Photo Art Stories" for a compelling reason. Through her lens, she doesn't merely capture still images; she captures moments frozen in time, each with its unique narrative. These photographs go beyond visual appeal; they tell stories of daily life, culture, and the human experience.
Unique Essence of Bosman's Vietnam Street Photography:
What sets Lavonne Bosman's street photography apart is her ability to infuse every frame with emotion. Her lens seems to grasp the very heartbeat of Hanoi, immortalizing the authentic emotions of its people. From the vendor's determined focus to the everyday conversation shared among friends, each photograph resonates with a tangible energy that brings the streets to life.
Vietnam Travel Photography as Art Prints:
Lavonne Bosman's street photography of Vietnam seamlessly transforms into stunning travel photography wall art prints. The vibrant colors, intricate details, and powerful emotions captured in her work make these prints come alive on your walls, transporting you to the vibrant streets of Hanoi every time you glance at them.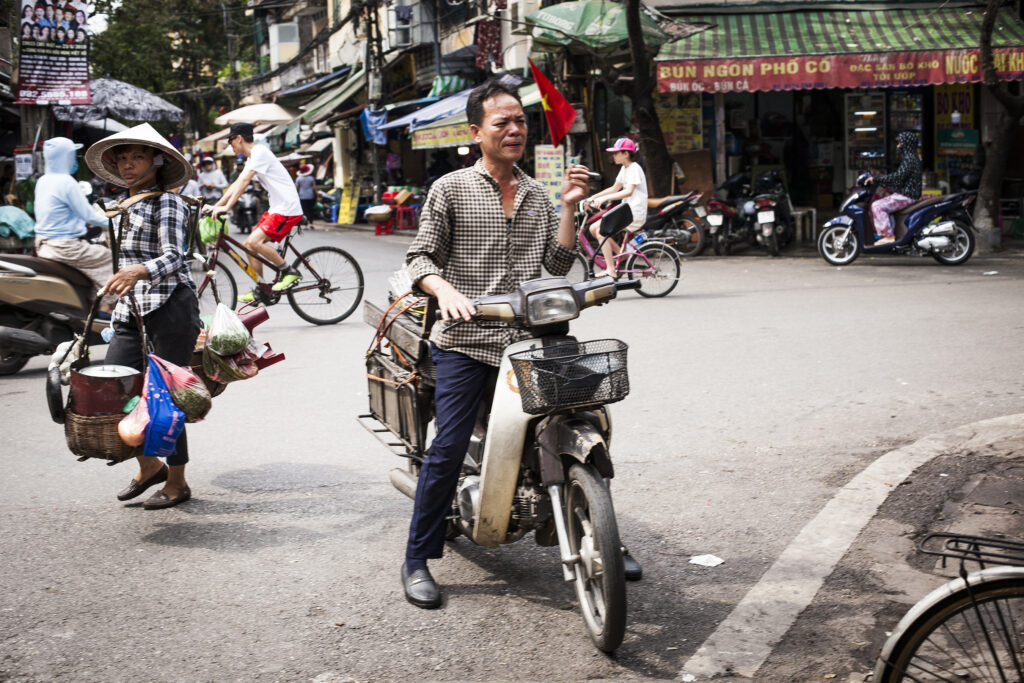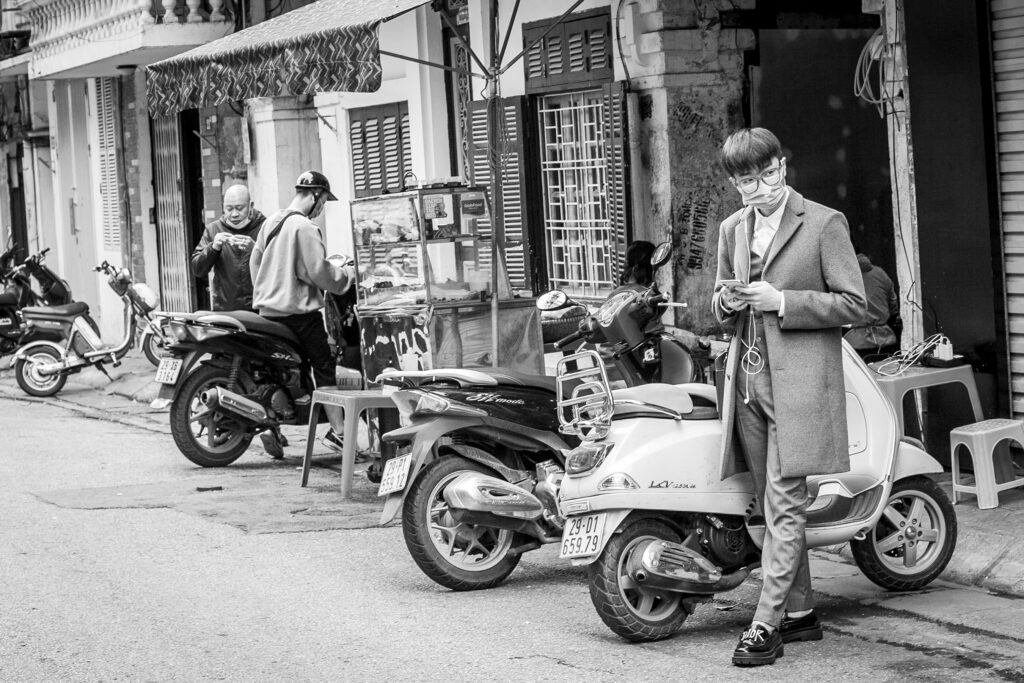 Why Invest in Bosman's Vietnam Street Photography Art Prints:
Cultural Immersion: Each art print is a portal to the streets of Hanoi, offering a daily dose of cultural immersion and wanderlust.
Emotional Connection: Bosman's unique ability to capture emotions in her subjects means that these art prints become more than just decorations; they become sources of inspiration and emotional resonance.
Conversations Starter: Displaying these art prints in your home or office opens up conversations about culture, travel, and the art of storytelling through photography.
Supporting Artistic Vision: Investing in Lavonne Bosman's art prints supports her artistic vision while allowing you to own a piece of her extraordinary talent.
In a world where capturing the essence of a place and its people is an art form, Lavonne Bosman's Vietnam street photography stands as a testament to the power of the lens. Her "Photo Art Stories" freeze moments in time, turning them into everlasting treasures that breathe life into your space and feed your wanderlust. Each photograph on your wall becomes a gateway to the vibrant streets of Hanoi, inviting you to explore its stories, its people, and its heart.
Browse Lavonne's Photo Art Stories shop on Etsy to invest in your own piece of Hanoi Vietnam street photography.
See more of Lavonne's Photo Art Stories of Vietnam, the colorful Hmong people of Ha Giang
More Photo Art Stories