A story about migration in the Swiss Alps.
"Escape from hardship because that is the only hope"

An asylum seeker father from Iran, explaining why he named his son Vihan. In Persian, 'Vihan' can be translated as "First light" or "hope".
I was 'Artist in residence'
For three months in 2016 I worked on a project for SMART, the Sustainable Mountain Art program in Switzerland. My job was to research and take pictures raising awareness of challenges facing mountain regions.
I chose the theme of migration that had interested me for some time. I lived in a small wooden cabin in the historical Alpen village of Medergen in the Graubünden, Switzerland. This special village was established by the Walser People around the 1300s. It is situated 2000m above sea-level in the Alps, close to the more familiar mountain town, Davos. Existing houses date back to the 1700s. A small village frozen in time. Without knowing beforehand, I landed in a place with some very diverse and interesting stories of cultural migration in close proximity.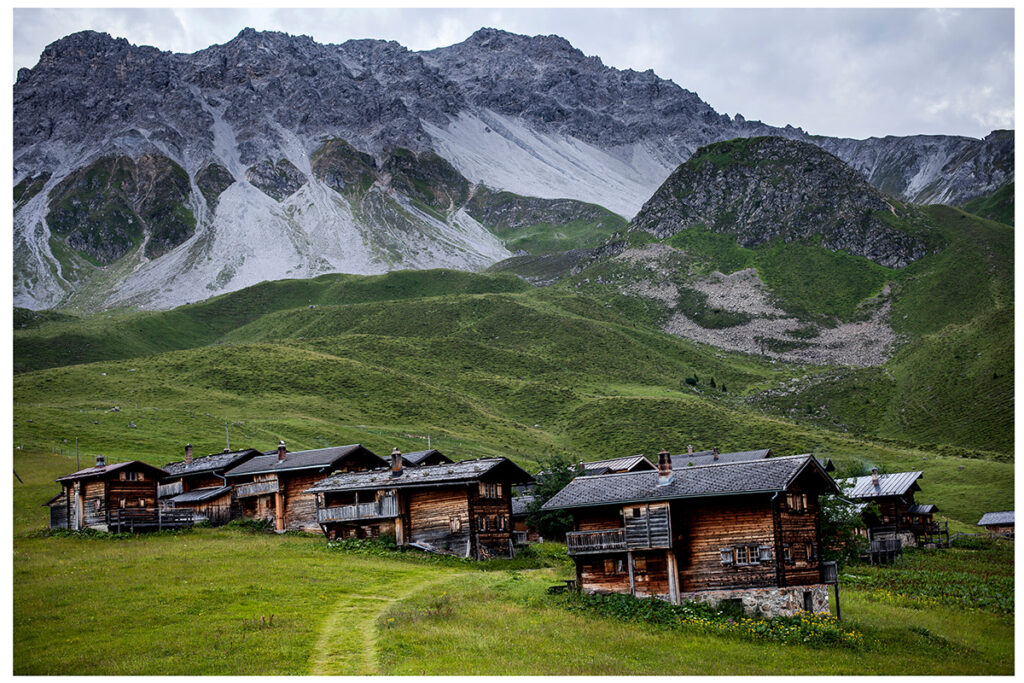 Three sorts of migration in the Swiss Alps
This Photo Story project includes three parallel tales of migration surrounding Medergen.
First, The Walser people, with a long history of migration towards Medergen. It is now one of the oldest mountain villages in the Alps.
The second story (forming part of the Walser people's lives) includes the livestock: cattle, sheep, horses, goats, chickens and other domestic animals belonging to the Walser people. These animals are part of the yearly trans-humance (seasonal migration) up and down the mountain.
The third, looks at a group of about 100 modern day asylum-seekers, housed in an old ski-hotel in Litziruti. Litziruti is the town closest to Medergen. It is reachable by driving a narrow path or hiking down the mountain through the forest. The hike takes about an hour-and-a-half to hike down, two-and-a-half hours to hike up.
1. HISTORY OF The Walser People of Medergen -migration in the Swiss Alps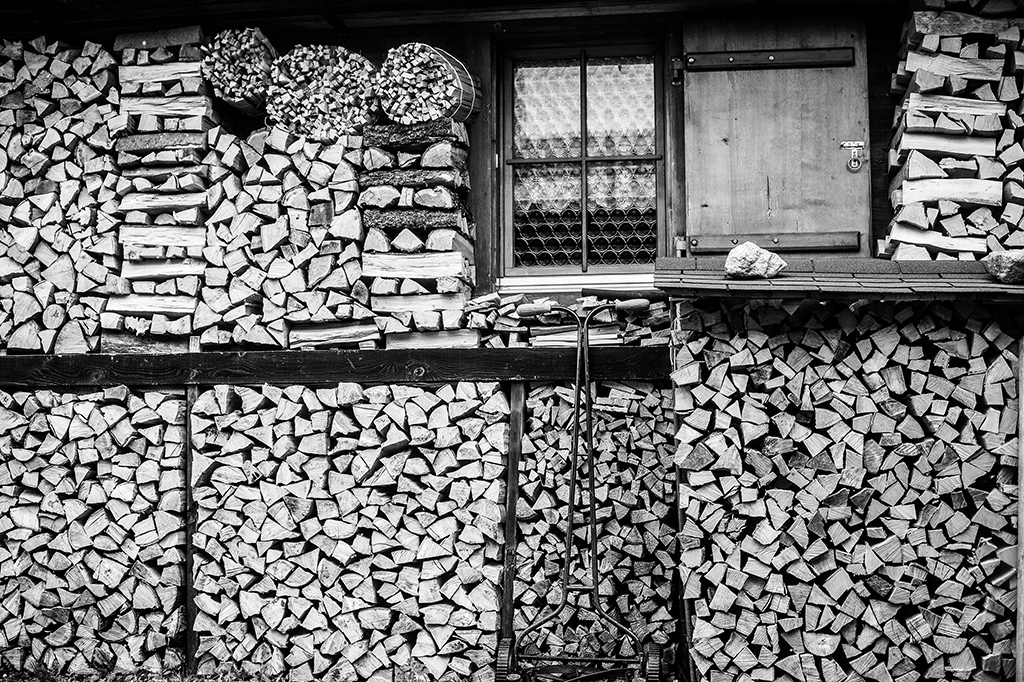 Since the middle ages,
Demographic pressure, armed conflict and oppression, natural disasters and overpopulation have driven the cause for Migration in the Swiss mountain regions. The largest mass emigration being of the Walser people from Lötschental. (The largest valley on the northern side of the Rhône valley in the canton of Valais in Switzerland). Over the course of 2 centuries The Walser established themselves over the Valais region and even as far as Austria.
In the 1300s
Many of the Walser people were serving as mercenaries in Northern Italy and as this source of employment decreased, soldiers returned to their homeland, causing overpopulation and the need to spread out.
At the end of the 16th Century
State structures developed towards limiting the mobility of the poorest of the population and ever since have always been present in determining who could emigrate or immigrate, sometimes with extremely restrictive measures. The foreigner's lot was that of having very limited rights and labeled with the status of 'inhabitant'. They were often not welcomed and even restricted in ways such as receiving opposition to marriage to locals.
During my stay in Medergen
I met many of the local inhabitants with centuries of Walser family history. Nowadays many families share inherited houses and visit yearly for a summer holiday. It is mostly uninhabitable during winter with only a few of the brave sticking around and taking on skiing in the thick snow.
The village is still very much contained in the ways it used to be. Only some smaller solar panels have been installed to provide some electricity to the otherwise self-sustainable ways of the old days. One of my favorite activities during my stay, was to fetch water from the fresh mountain fountain close to the cabin every morning!
2. Trans-Humance MIgration in the Swiss Alps
Another important part of the Alpen migrational history from then till now is the yearly trans-humance, otherwise known as 'seasonal migration'. This involves the people and their animals (mostly sheep, cattle and horses) moving down to lower villages such as Litziruti and Langwies. Some families might have three houses, from top to lower down village, each suitable for a specific levels of snowfall during the seasons.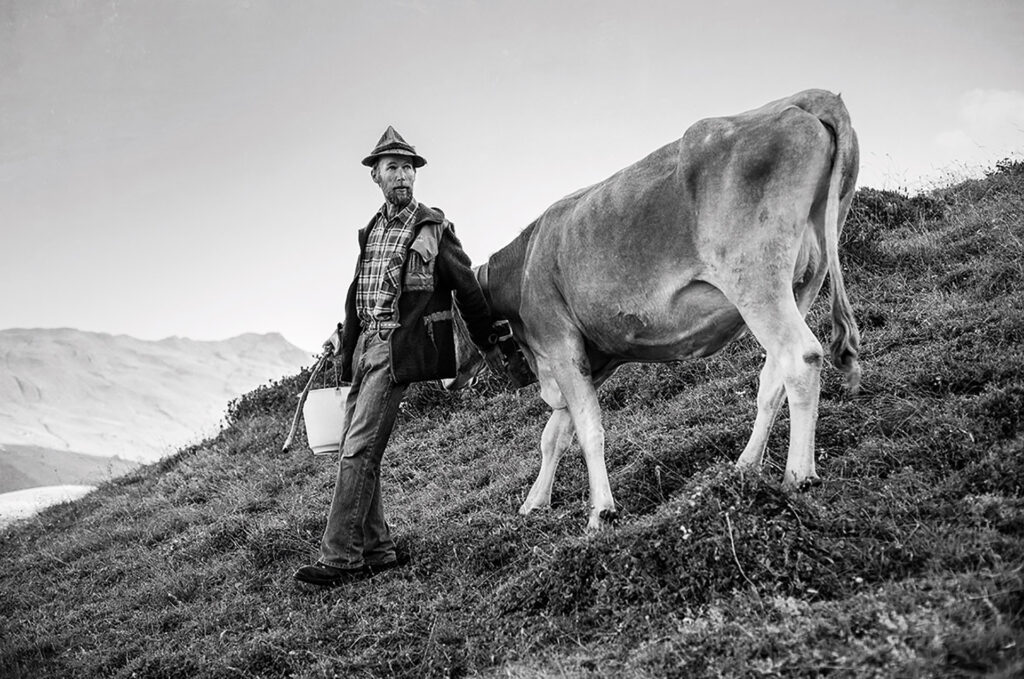 In Litzirüti, the closest village to Medergen
There is an old ski-hotel, that has been transformed into a temporary home for about 100 asylum seekers from various war torn and heavily oppressed countries such as Eritrea, Ethiopia, Somalia, Sudan, Afghanistan, Iran, Syria, Gambia, Tibet, awaiting the decision of the Swiss government to announce their fate, whether they will be rejected or if they will be given permission to stay in Switzerland and given permission to work.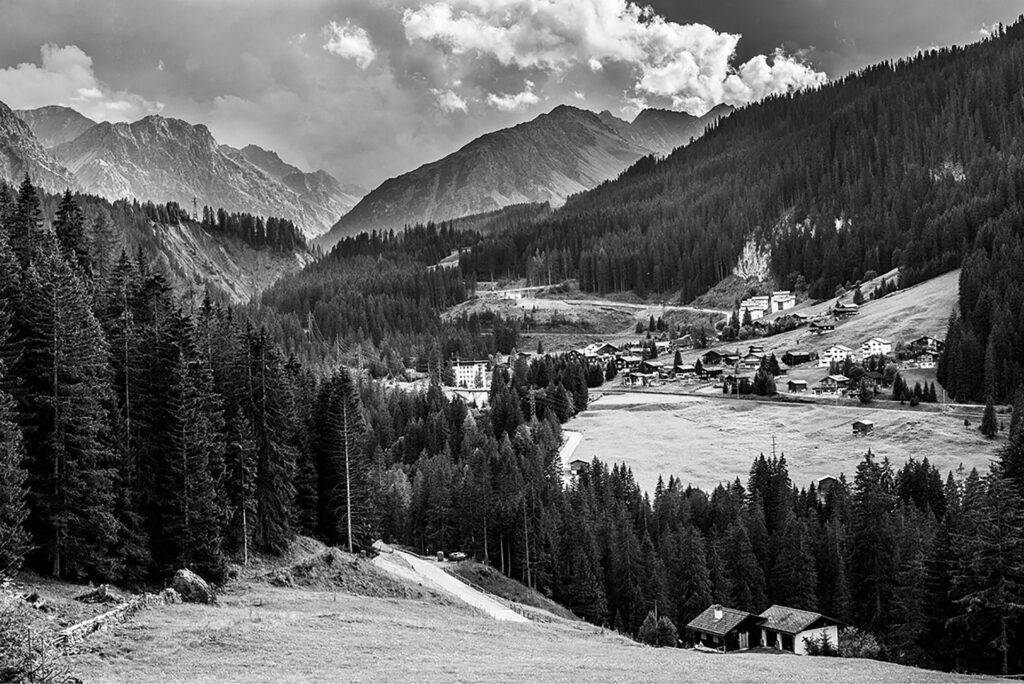 I hiked four hours up and down the mountain every other day
I hiked down to Litziruti and up again to Medergen every other day, in order to to spend as much time as I could with the people who resided in the ski-hotel. I made some special friendships too.
3. Asylum Seekers – Migration in the Swiss Alps
If you would ask anyone there, they would say that they were grateful to be there in the peaceful village of Litzirüti and to be so well looked after in this beautiful place. And they are extremely thankful to be in a country where there is peace and modern prosperity.
The people I met were extremely thankful for escaping the unimaginable oppression and life-threatening situations in their home countries. However, life in these breathtaking surroundings presented its own challenges. From Litziruti, you'd have to take the train to nearby Arosa for any food or other shopping. It was hard for the foreigners to fit in with the local people and feel accepted. Furthermore, most of the people had already been in Switzerland for a year plus and it was stressful waiting for an interview. Their reasons for needing asylum still needed to be assessed and their fate and extent of freedom, decided accordingly.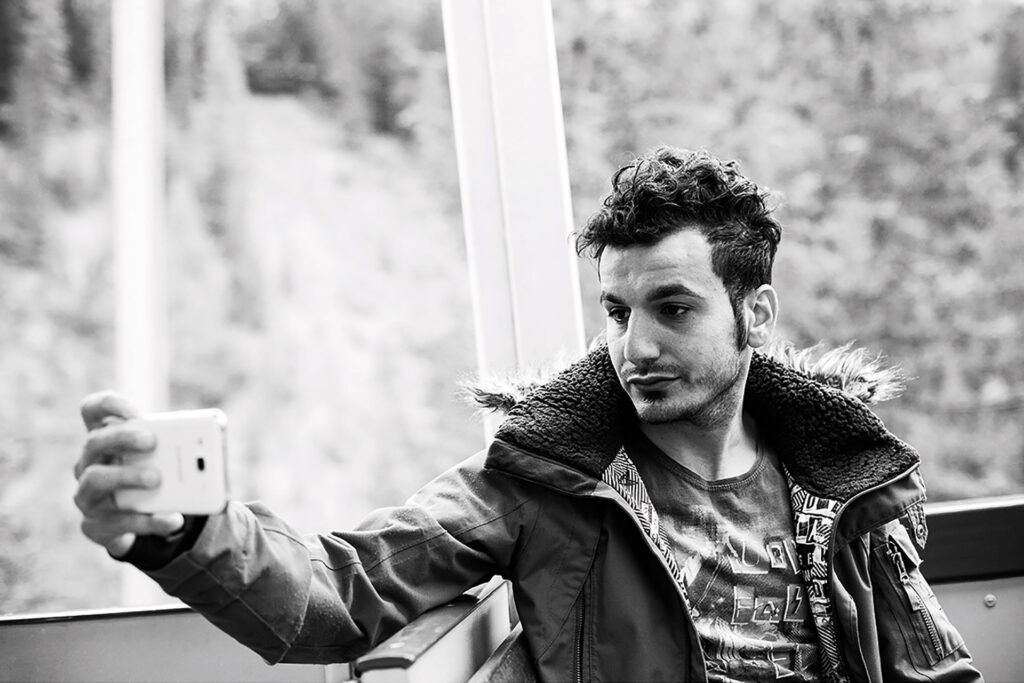 What I learnt:
Looking at the history of migration on one hand and what is happening today on the other, I realized that the same challenges that existed centuries ago still apply today. Whenever there are newcomers, inevitably there is at least a degree of resistance to the acceptance they are met with and of state control that is the decider of their fate. These factors prolong the process of integration. This resistance is usually in order to protect the fears of the established.
"Cultural diversity is as essential to humanity as biodiversity is to nature. It makes the world a richer and more varied place and enlarges the range of choices available. It is the breeding ground that allows different cultures to continue and develop and enrich themselves through contact with each other, without drifting towards rigid identities. It is one of the sources of development, which must be perceived not merely in terms of economic growth, but also as a means of attaining to a satisfying intellectual, emotional, moral and spiritual existence."

(Quote from the SDC – Swiss Agency for Development and Cooperation on the importance of culture for development).
By depicting the history of migration in the Swiss alps and the rich traditions that has become established over time, contrasted with the current asylum seeker situation of being a state of limbo, I aim to raise awareness of the current day migrants (asylum seekers) and remind people that sooner or later in life we all were or will be migrants again.
In conclusion
I believe that through time, if cultures can accept and embrace their differences, be it language, color, traditions or spirituality, they will see that in front of them stands another human being with the same hopes and desires as themselves. Consequently, we can all benefit and be so much the richer for getting to know each other and giving each other the freedom to live out our own identities, which make us complete and wholesome human beings.